"Beginning Ruby" on Google Book Search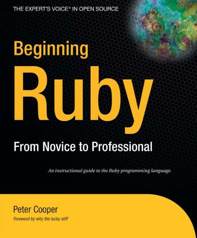 Thanks to an article called "Top Programming Books on Google Book Search", I've discovered that many of the pages of my book, Beginning Ruby (available also in e-book format here), are available here on Google Book Search. Most of Chapter 3 is there, along with chunks of every other chapter, including quite a bit of Chapter 16, a reference of "Useful Ruby Libraries and Gems".
While I have your attention and while I'm officially posting about the book, so far it has 9 reviews on Amazon, 8 at 5 star, and 1 at 4 star, and they are well worth a read if you're wondering whether the book is for you or not. No self reviews or "scratch my back, I'll scratch yours" type reviews in there (yah boo to those who do that), just honest thoughts from real readers of the book. To be honest, I have been surprised at the reaction and finally feel legitimate enough to proclaim that, yes, this is the best book, bar none, for people learning Ruby.