David Black's Ruby 1.9 Video Tutorials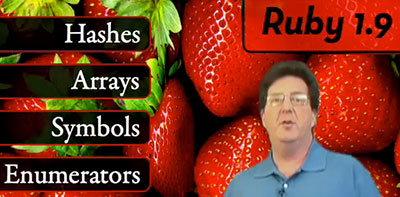 Popular Ruby trainer and author David A Black has partnered up with Envycasts (from the Rails Envy guys) to produce a set of two Ruby 1.9 video tutorials / screencasts. You can buy each part (part 1, 2) on its own for $9 or the two together as a set for $16. If you choose the set, you'll also get a 40%-off coupon for David's new book, The Well Grounded Rubyist (the followup to Ruby for Rails).
I've watched both of the videos and they're up to the usual extremely high production standards that Envycasts is becoming known for (see this review of their Rails 2.2 screencast and PDF). Both videos are about 40 minutes long and the first covers hashes, arrays, symbols, enumerators, the Enumerable module, and RubyGems, while the second looks at some less obvious enhancements including new block variable features, String class updates, encodings, and a plethora of new methods that are newly available to all Ruby objects (as well as the new BasicObject class).
David has dug up some interesting examples and intriguing methods that aren't being used much by Rubyists yet, due to their newness, so even if you've got the basic hang of Ruby 1.9, the second video is sure to throw up some things you've hadn't seen before, such as instance_exec, tap, public_send, and ancestors.
5 Copies To Be Won! Read on...
Want to see the videos but haven't quite managed to whip your credit card out just yet? The first five unique people who post a comment on this post using a valid e-mail address (in the field, to keep it hidden from the general public, if you wish) and a suggestion of a screencast that you'd like to see produced in future (perhaps even with a specific suggestion of who should host it!) will receive a promo code to use. So.. get going with those ideas.. shoot from the hip! Gregg Pollack will leave a comment to follow up.
Lastly, don't forget to check out Envycasts' range of videos. The Scaling Ruby one is particularly cool.