Deploying Rails Applications: The Book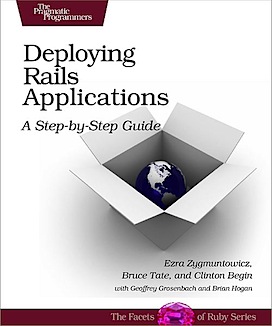 I usually try to get a review copy and read through a book before mentioning it here, but a book like Deploying Rails Applications (Amazon.com alternative) has been in demand for a long time now. Its provenance (coming from the keyboards of Ezra "Engine Yard" Zygmuntowicz, Bruce Tate, and Clinton Begin - and published by Pragmatic Bookshelf) encourages me to support it without direct review. That's not to say it's certainly a good book, but it darn well shouldn't be a bad one.
The book covers deploying Rails applications under shared hosting, virtual machine, and dedicated server hosting environments, and looks at the variety of technologies you can use, such as Apache, Nginx and Mongrel. Monitoring, source control, and automated deployment (using Capistrano) are also discussed.
For those who'd rather squint endlessly at the screen than fondle finely pressed tree flesh, Pragmatic Bookshelf have a PDF version available for $22.
This post is sponsored by KickStart Events — RubyOnRails Training at the EMCC (East Midlands Conference Centre), UK. High-quality hands-on workshops and courses for web application developers. Taught by experienced mentors using live coding sessions, slides and participatory discussion.