DocBox: Wiki-Like Ruby / Rails Documentation For Everyone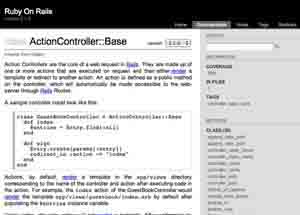 DocBox is the latest attempt to improve the Ruby/Rails documentation scene. Created as a Google Summer of Code project by Ian Ownbey (mentored by Jeremy McAnally) DocBox "sits on top of RDoc and allows users to update documentation through a wiki-like interface." Changes to the 'wiki' are then folded back into your code and committed to a git documentation branch.
While still young, this project shows a lot of promise, as it allows anyone to write detailed, versioned, documentation without having to download or view any source code.
Naturally, DocBox is open source and is available at GitHub. Jeremy and Ian both encourage people to jump in.