Does someone at Nokia love Ruby?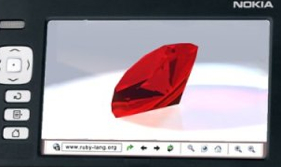 This isn't really "news" but it's Ruby related and struck me as rather odd. I was just browsing Amazon.co.uk, doing some Christmas shopping, and came across a Nokia Internet Tablet with GPS (not an affiliate link) for only £139.99. I looked at the provided pictures of the device and was struck by the one above. It's a picture of a Ruby and you can just about make out "www.ruby-lang.org" written on the location bar of the device. This seems pretty weird on a mass market device, especially since they've gone to the trouble of putting a picture of a Ruby in the shot, rather than the real Ruby homepage.
Someone at Nokia, or perhaps an Amazon customer who's "shared" the image, appears to like Ruby. Is this a real promo shot for the device or merely an amateur creation? Interesting none the less when Ruby crops up in the most unlikely places.