European Rubyists! Come to Euruko 2008, Prague, March 29-30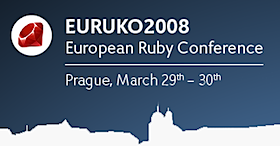 European Rubyists, it's time to open up your calendar and pencil in March 29th and 30th, 2008, as Euruko 2008 is heading to Prague. Heck, if you're willing to fly to one of European's most cultural cities, you're welcome from any continent! Registration is not yet open for the conference, but is planned to open sometime in the next week. There will be another post here on Ruby Inside when that happens. Registration is only €20 ($30 / £15) and gets you entrance, some food and drinks, a t-shirt, and some other stuff, so it's really just to cover expenses.
Euruko is a truly grassroots, Ruby-focused European conference that has taken place each year since 2003, and this year it's set to double in size (in 2007 there were about 80 attendees, with 150-200 expected this time). The focus is on getting the word out about, giving presentations on, and collectively hacking on the latest Ruby bits and bobs with lots of your fellow Ruby hackers. There's also likely to be some after-hours drinking (it is Prague!) along with tons of hacking, so if you like the more "un-conference" type feel, check it out. I'm going to be there, interviewing people for Ruby Inside (and potentially for inclusion on the Ruby on Rails Podcast - not yet fully confirmed), and generally soaking up the atmosphere. I'm looking forward to seeing lots of UK Rubyists there too, and if I already know you, expect me to be badgering you via e-mail soon!
Euruko is conveniently taking place in the weekend just before Ruby Fools in Copenhagen (April 1-2), so if you were headed into Europe for that, Euruko might be a convenient part of your plans, and a perfect tonic to the different focus at Ruby Fools. The conference is now also beginning to look for sponsors. Packages range from a one company only "Platinum" level at €1950, down to a "Silver" level at €195. As a bonus, all sponsors will also be thanked, along with their logos and links, in a post here at Ruby Inside, so if that sounds like an interesting opportunity for you, follow the instructions at the official Euruko site.
Disclaimer: I have a (very) minor role in Euruko 2008's organization.