Get Your Rails Application Shown as Pretty Graphs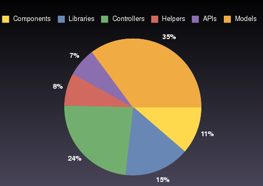 Shane Vitarana has launched a new Rails plugin called Rails Stats. It's a graphical version of the rake stats statistics. It generates graphs showing information about your application, and is powered by Geoffrey Grosenbach's great Gruff Graphs plugin.
Install like so:
script/plugin install http://shanesbrain.net/svn/rails/plugins/rails_stats

And then load /rails_stats on your running Rails application. More info here.