Heroku: An Online Rails Development and App Hosting Environment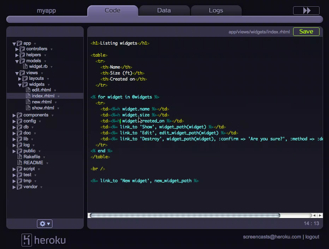 Martin Sadler of WorkingWithRails.com just pointed me towards Heroku, an exciting new development in the Rails world. Heroku is an online environment where you can develop and host Rails applications.. all from the browser. This is pretty exciting stuff and, on paper, makes rolling out, tweaking, and playing with Rails applications a snap. Rather than blather on about how this could become a game-changer in the Web applications industry, instead I'll point you to Heroku's own excellent set of screencasts and feature tours.
Adam Wiggins, one of the three partners behind Heroku, has some more "from the trenches" detail in this post on his personal blog.
Update: I probably should have mentioned that this is still a week away from public beta.