Is it time for a RailsForge?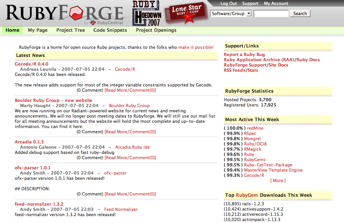 One of the best Ruby resources out there (if not the best) is RubyForge. It's a home for Ruby-related open source projects and acts as a default home for the hundreds of RubyGems we all use and love.
A small team, made up of Jason Perry, K. Adam Christensen, Scott Becker, and James Seaman, however, think that it might be time for a RailsForge to come onto the scene. They've set up a community survey at RailsForge.com that anyone can fill out, and they're looking for your opinions:
At first glance, there's a resistance to drawing a line between Ruby and Rails—that's certainly not what we aim to do. We think there might be a strong need for a Rails-centric hub. Something to encourage growth, innovation and learning within the Framework. The main point is to aggregate information and ideas from the Rails community at large, and give it a strong base for newcomers and experienced Rail-riders alike to stand on. More than a repository. More than a blog or a tumblog. More than a wiki. What we're thinking of is… Grand Central Station. What do you think?
I'm not keen on supporting something that might break up the community, but in RailsForge's, they might have a good case. While Ruby and Rails were nearly always used in the same sentence in 2006, this is no longer the case. I feel that the programming world, as a whole, is becoming more receptive to Ruby as a language, so perhaps having separate resources for Ruby the language, and Rails the framework, is a wise way to move into the future. This could become even more pivotal if Rails leaps off of being a Ruby-only framework into becoming a standard or set of conventions for Web application frameworks.. and that's not as crazy a scenario as it seems at first glance.
Go to RailsForge.com and give the guys your opinions.