Lone Star Ruby Conference 2008 – Austin, Texas – September 4-6, 2008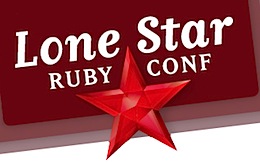 Registration for Texas's own Ruby conference, the Lone Star Ruby Conference, has opened. The overall event takes place between September 4 - 6, 2008 in the Norris Conference Center in Austin, TX. Tickets are $250 for the two-day conference portion, or $425 for one day of training / tutorials followed by the two day conference. The prices shoot up come August 10.
The schedule is bumper packed with some great sessions and tutorials. James Edward Gray II and Gregory Brown will be delivering a three hour training session on Ruby's IO functionality, Jim Weirich and Joe O'Brien will be delivering a tutorial on Test Driven Development, Gregg Pollack and Jason Seifer (of RailsEnvy fame) will be giving an advanced ActiveRecord workshop, and lots more besides. This seems to be one of those rare events where the tutorial day will be worth its weight in gold, unless you're already a self-certified Ruby / Rails expert of course. As well as this, Yehuda Katz, Glenn Vanderburg, Evan Phoenix, Matz, Bruce Tate, Bruce Williams, and others, will be speaking on various Ruby topics at the conference generally.
This post supported by Rails Kits: Skip the hassle of writing recurring billing code: use the SaaS Rails Kit to quickly add credit card and PayPal payments to your Rails app. Get 10% off by using the discount code "rubyinside" at checkout before August 1st.