Mr. Neighborly's Ruby and Rails: A Curious New Ruby Book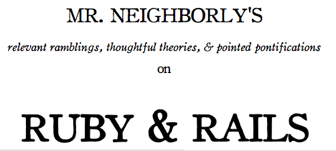 Jeremy McAnally is writing a Ruby and Rails book called "Mr. Neighborly's Ruby and Rails" and what an interesting book it's turning out to be. He's going to sell the finished item for $14 as a print book, $9 as an ebook, and it's due to be finished in the next few months. For now though, you can download the first chapter for free. It's a really cool introduction to Ruby, ideal for existing programmers or Rails developers who don't know much Ruby yet.
The fonts and the feel are really 'olde-worldy' and I'm thinking this could be a big hit.