MySQLPlus: A Non-Blocking MySQL Driver for Ruby 1.8 and 1.9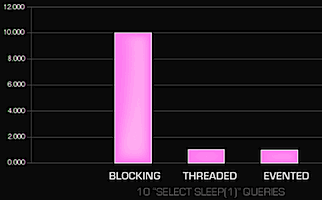 Recently we posted about NeverBlock, a Ruby 1.9-specific library that eases the development of apps that use non-blocking IO. eSpace, the company behind the library, have now come along with another surprise... MySQLPlus - a non-blocking MySQL driver for Ruby 1.8 and 1.9! There's more information here in the official announcement.
MySQLPlus is billed as a new general purpose MySQL driver that supports "threaded access and async operations" and after installing it and running the basic tests that come with the library, it certainly seems to do the job. eSpace believes that MySQLPlus could be used to significantly reduce the latency of certain Rails applications, but as a bare MySQL driver it should be of significant benefit to all Ruby developers whose code talks to MySQL servers. If yours does, try out MySQLPlus right now - your Ruby processes are crying out for some relief.
This post supported by Notifixious - Notifixious - a new notification service startup based in San
Francisco - needs a Rails expert to become its CTO! Knowledge of messaging technologies (XMPP) and REST API development is a must. You can learn more here.