Radiant 0.6 Released: A Top Rails Content Management System

Almost a year ago I posted about Radiant, a then 'diamond in the rough' Rails content management system that was under development by John W. Long. Since then Radiant has come along in leaps and bounds and a significant release, namely that of version 0.6, has been made today.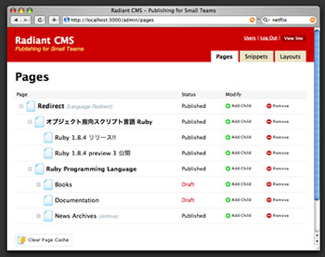 Radiant is an open-source CMS developed with Ruby on Rails which features a new extension system enabling users to create third party add-ons (which already include extensions to do backups, LDAP, virtual domains, vim editing, Flickr integration, page aggregation and more). It can be installed simply using RubyGems (gem install radiant) and getting an instance of the application up only takes a few lines at the command prompt. If you need a CMS and you're ready to roll with a solid Rails application, Radiant seems a pretty good place to start.