RubyMine: A New "Intelligent" Ruby IDE Built on IntellJ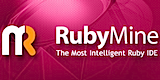 RubyMine is an all new IDE for Ruby and Rails developers, developed by JetBrains (best known for Java IDE IntelliJ IDEA). RubyMine is built upon the IntelliJ IDEA platform and brings together all of the essential features you'd expect of an IDE (editor, debugging tools, source control integration, code completion, and so forth) along with lots of extra goodies specific to Ruby, such as GUI-based support for RSpec and Test::Unit.
The current release of RubyMine is billed as a "Public Preview" with a full release set for Q1 2009. This public preview is free to use for 30 days and JetBrains are keen to elicit feedback on their RubyMine forum in that time. As a commercial developer tools vendor, I suspect JetBrains will most be charging for RubyMine when it's finalized. The pricing for IntelliJ IDEA is £450 ($599 - oddly) for a "commercial license" and £187 (or $249) for a "personal license" - just to give you an idea of the level JetBrains operates at.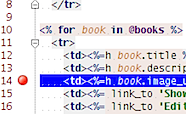 On a casual tryout of RubyMine, I found it to be a little smoother than Eclipse based IDEs, and although it's clearly not a fully native OS X application (in terms of widgets) it looks pretty good. It took several minutes for my first Ruby project to be created as it was busy parsing all the Ruby files on my system for some reason, but once this was done, further projects were created instantly. Up and running, the IDE seemed to do the trick, but I didn't go too far as I'm not a big fan of IDE-based development. This was on OS X only, so your mileage may vary.
In any case, it's interesting to see another "everything but the kitchen sink" cross-platform Ruby IDE to compete with RadRails and NetBeans, but if RubyMine becomes a commercial application priced similarly to IntelliJ IDEA, I can't see it becoming popular except with devoted IDEA users migrating to Ruby, but hopefully JetBrains will pull something interesting out of the bag to make it a more interesting proposition.
Supported by Media72 Hosting: Looking for reliable UK Ruby on Rails hosting? Packages start from just £7/month on our mod_rails/apache stack hosted on fast UK servers and include free 24/7 support.