Silverlight (and Ruby on the .NET CLR)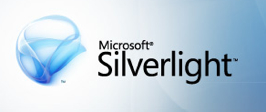 At MIX07 a few days ago, Microsoft announced "Silverlight", a new Flash-esque .NET-based platform for delivering "media experiences" and "rich interactive applications" on the Web. It's interesting, and some people seem to think it's going to revolutionize the Web, but that's not why we're interested in it at Ruby Inside.
The most interesting part of the Silverlight announcement is that it's based on a subset of the CLR (Common Language Runtime) from Microsoft's .NET platform. The .NET CLR has become a common target for programming language runtimes recently, but Microsoft has officially announced C#, Javascript, VB, Python and Ruby support for Silverlight's CLR. Microsoft are also adding new features in a system called the DLR (Dynamic Language Runtime) to bring more dynamic features (as required by Python and Ruby) to the CLR. InfoQ has more information on this, in terms of Ruby.
What all of this means is that there's baked-in support for Ruby in what could be one of the biggest runtime environments on the Web in the next few years, and this can only be a good thing for Ruby. Jon Udell sat down with John Lam (the creator of RubyCLR) and talked about the DLR, Ruby, and how the whole caboodle works / will work.
Let's cross our fingers and hope this isn't ActiveX all over again.