6 Free Ruby Icons For Your Projects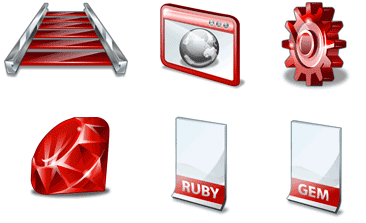 Several weeks ago, stock icon company Iconshock offered to design some icons for Ruby Inside to give to its readers. Initially skeptical, I was convinced to give it a try after seeing some of their other work. Now, the first 6 icons are back and.. they're totally free for you to use. Grab this ZIP file that contains PNG and EPS (ideal for Illustrator) versions of the icons and give them a go!
The six icons signify Ruby on Rails, Ruby itself, two file types (Ruby and RubyGems), an application, and a generic cog. All can be used as you see fit. Iconshock told me that there are "no special terms or conditions" and that they can be used "for personal and commercial projects." They'd be cool to use in logos for Ruby libraries, on your blog, or anywhere else where Ruby related imagery would come in useful. Giving Iconshock credit is optional but appreciated.
What icons do you want to see next?
Iconshock have already expressed an interest in producing a second set of icons for Ruby Inside. What do you want to see? The first set were based on my ideas, but next time around they can produce the icons that you really want or think would be useful to the Ruby and Rails communities. What sort of icons could you use for your Ruby related Web sites, blogs, libraries, events, and so forth? Leave a comment against this post.
So who are Iconshock anyway?

Ruby Inside has no financial relationship with Iconshock - we get some cool icons to give away in return for pointing out that Iconshock made them, and that they have plenty more (700,000+!) for sale on their site. They seem quite experienced in producing icons for applications and all of the icons I've browsed through in their catalog have been impressive so far.
So, check Iconshock out if you're interested in buying some icon sets or getting your own custom icons done (for $50 each if you want three or more). Perhaps they'll keep making us some cool free icons to give away..