A Fresh Overview of Rubinius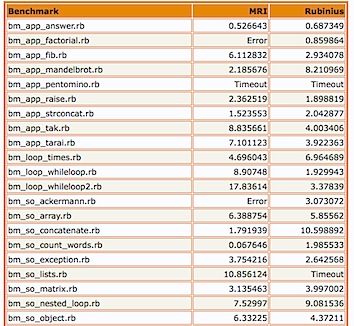 Mathieu Martin has written a great, up to date overview of Rubinius, a rapidly growing alternative Ruby implementation created by Evan Phoenix and now being developed by a large team (with significant financial help and manpower from Engine Yard).
Mathieu's overview explains what Rubinius is (a new Ruby implementation with a heavy focus on implementing Ruby in a subset of itself), examines the ideas behind the implementation, and presents some up to date(ish) benchmarks that show how Rubinius compares to MRI (Matz's Ruby Interpreter) so far. The benchmark results are very encouraging, and show Rubinius has taken some great leaps forward in the last several months.