Aptana IDE: Open Source Workbench for Ruby+Rails+JavaScript+HTML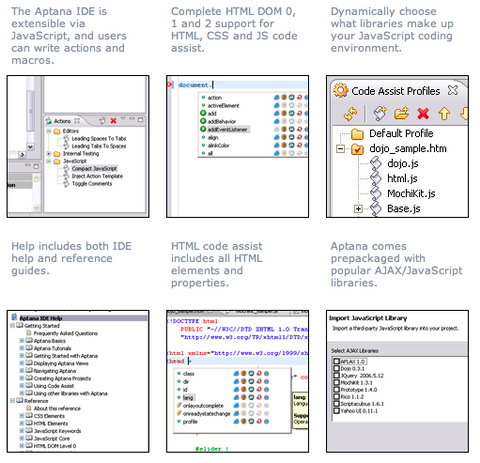 Aptana IDE has been since inception targeted to Ajax developers and power web designers, with advanced features such as JavaScript debugging and built-in searchable reference manuals for many web standards (in addition to JavaScript, DOM, CSS, and HTML, it also bundles documentation for several Ajax libraries including Scriptaculous.)
With the merge of RadRails into Aptana, the Aptana+RadRails bundled IDE now supports Ruby syntax highlighting, debugging, code completion, and support for Rails-specific tasks like defining WEBrick and Mongrel servers. Although the project is still in beta, it is already very usable for daily use.
Alternatives: EasyEclipse for Ruby on Rails, which is very easy to install (bundles the Java runtime) has RadRails built-in and you can enhance it using the Aptana plug-in. Sun's NetBeans 6 IDE bundles Ruby support (currently pre-release, but usable.) SciTE has built-in Ruby support and loads very quickly.
About Hendy Irawan
Ruby programmer from Indonesia.
View all posts by Hendy Irawan →