ar_mailer: Batch Send ActionMailer Messages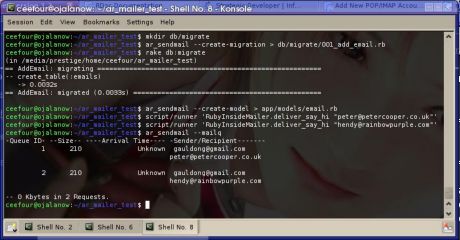 ar_mailer is a Ruby gem by Eric Hodel (a ZenTest core developer) that works with Rails to store outgoing e-mail messages into the database for later delivery by a separate ar_sendmail process. This is handy because delivering e-mails can take a long time if performed before rendering pages, especially if you have hundreds of messages to send!
Version 1.2.0 adds TLS (Transport Layer Security) support and numerous other bug fixes and updates. To install:
gem install ar_mailer
Note: If you still get the old 1.1.0 version even after doing a gem install, you can download the .gem file directly from Seattlerb Rubyforge Project Page.
About Hendy Irawan
Ruby programmer from Indonesia.
View all posts by Hendy Irawan →