BrightBox: Finally a Rails-focused VPS in the UK?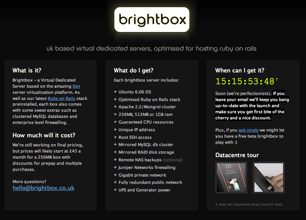 Brightbox is a soon-to-launch Rails-focused VPS hosting provider in the UK. I've whined about the gap in this market a few times before, so it was literally guaranteed I'd e-mail about the first attempt I was told about. They're going to be offering Ubuntu Dapper based VPSes with an optimized Rails stack (using Apache 2.2 and Mongrel cluster) along with a mirror MySQL cluster and mirrored RAID storage. They seem set to launch on July 1st. There's an e-mail mailing list available on the site for those who want a reminder.
In the meantime, Jeremy Jarvis of Brightbox is looking for beta testers of the service. They'll provide a free "Brightbox" for testing purposes initially, and later on will offer a "nice discount" (don't ask me how much!) and support perks for any beta testers. Their criteria are developers who use Rails almost exclusively for new projects, who currently host (or are looking to host) a Rails-powered app, who have experience of deploying Rails apps, and who has a Ruby or Rails related blog. If this interests you, drop them a mail at beta-req@brightbox.co.uk.