Glyph – A Ruby-Powered Document Authoring Framework
I've been writing technical documents for a living for the past four years, and I can tell you: there is no easy way to go about it. I love Textile and Markdown. When people aren't looking, I even use them at work to generate HTML code, because it's just so much faster.

For things like <div> tags and <tables> though, Textile is not the best thing in the world, so you end up falling back to HTML. Moreover, if you are producing a book, Textile can't help you if you want to generate things like a Table of Contents automatically or validate links: those things are simply not part of Textile's job.

Glyph follows a much more radical approach, which consists in using a macro language on top of Textile or Markdown. The good thing about it is that this macro language is very simple to learn and — most importantly — very easy to extend.
Fabio Cevasco
Glyph(GitHub repo) is an interesting looking "document authoring framework" built in Ruby by Fabio Cevasco. Glyph is both a tool chain and a macro language that's parsed by Treetop into XHTML (which can then be transformed into PDF).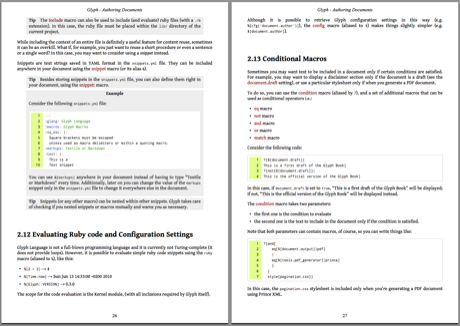 Fabio has clearly put a ton of work into this and has been eating a lot of his own dogfood, as this 72 page PDF manual for Glyph (produced by Glyph itself) demonstrates. In an e-mail to me, Fabio stressed that "he could really use some help" from people interested in document authoring and building in the form of code contributions and testing, and he's ready to help people get started with that.
Glyph looks great, but I'm not entirely convinced that implementing a sort of "XML lite" that uses square brackets is the right way to go when using regular XML would add little overhead and already be more familiar to most developers.