Interesting Rails Tidbits #3
Ext JS Powered Administration System Generator for Rails 2.0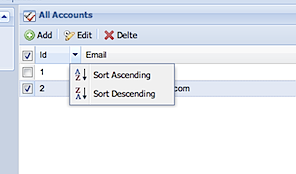 Davide D'Agostino writes in with news about Lipsiadmin, his Ext JS powered administration system generator for Rails 2.0. Ext JS is an interesting JavaScript framework that lets you quickly put together AJAX-powered Web pages that look and feel somewhat like Windows applications. Lipsiadmin takes this attribute of Ext JS and builds backend administrator systems for your Rails applications that feel more like GUI apps than Web pages. It's pretty interesting work.
RailsConf 2008 Registration Now Open
Just a quick note to those who are interested that the registration for RailsConf 2008 is open. Get in quick as it typically books out fast. David Hansson gives some brief background.
"Rails Is Shitty"
There's no thought given to the general problem to solve, it's just improved PHP + "ActiveRecord, lol". This means Rails doesn't have solutions that are particularly good or scalable or make sense, only hacks that happened to solve someone's specific problem at a time and were implementable in 5 minutes or less. Rails is heaps better than PHP, but it's still only good for what PHP is good, and that's not writing webapps. This permeates Rails all the way down: it's got hacky modules that only solve particular problems, those modules have hacky functions that only solve particular problems and those functions only do hacky things that solved someone's particular problem.

Maciej Kataflasz
A post on comp.lang.lisp recently caught the eyes of several Rails developers. It's inflammatory and a prime piece of flamebait, but Maciej Kataflasz makes a few good points amongst the hate.
Easy Restful Rails Screencast
In the "Easy Restful" screencast, Fabio Akita takes a 50 minute journey into putting together RESTful Rails 2.0 applications in an efficient manner.
Installing Rails and PostgreSQL on OS X Leopard
Robby Russell has put together an easy to follow, complete guide to getting a full Rails stack along with PostgreSQL installed on OS X Leopard. Lots of screenshots and hand holding. Nice work!