Interesting Ruby Tidbits That Don't Need Separate Posts #13
Anvil (Ruby GUI App Framework) Gets an Update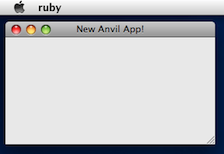 A new version of Anvil, a Ruby framework for developing GUI applications, previously covered here on Ruby Inside, has been released. Lance Carlson has done a great job of making developing a basic GUI application on OS X, Windows or Linux a job that takes minutes rather than hours. All you need to do is install the Anvil gem, run a basic app generator, and a "Rails-esque" structure and basic app is created. If you haven't taken a look at Anvil yet, give it a look.
Lucas Carlson also wanted to let everyone know that Anvil now includes the "widget_wrapper" gem which is a new gem focusing on "DSLing GUI toolkits" starting with WxRuby but progressing on to RubyCocoa, Swing, IronRuby, OpenGL, and so forth. Anything that makes cross-platform GUI apps easier to develop is exciting, so check it out.
Instant Rails 2.0 for Windows Released
Windows Rails developers will know of Instant Rails, a "one app installs the whole stack" type affair that installs Rails, Apache, MySQL and Ruby all in one lump, pre-configured and ready to run. Well, Instant Rails 2.0 is now available and, surprise surprise, includes Rails 2.0!
ADS Mantis - Dedicated Management of your EC2/RightScale Deployed Rails Apps
Robert Dempsey wanted to let everyone know about Atlantic Dominion Solutions' new ADS Mantis service that provides dedicated management of RightScale-deployed EC2-based Rails applications.
New Erlang / Ruby Bridge Released, "RBridge"
In May 2007, I wrote about an early stage interoperability bridge between the Erlang and Ruby programming languages called Erlectricity. I also said:
Ruby / Erlang interoperability and co-operation is likely to become a big topic in the Ruby community towards the end of the year.
That didn't really happen, and as far as I can tell, Erlectricity didn't get beyond version 0.1. Just this week, however, Chuck Vose has written in to say he's working on a new effort called RBridge that uses code from an older project called RulangBridge. He has a quick tutorial up here.