A Great Set of IronRuby Tutorials To Bring C# Developers Into The Ruby Fold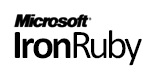 IronRuby is a .NET implementation of Ruby being developed by Microsoft (specifically, by John Lam). The project has matured significantly in the past year, and IronRuby is well on its way to running Rails applications (it already works with very simple ones). IronRuby's major benefit is that it allows Ruby code to access a massive range of .NET libraries and services.
Justin Etheredge has put together a great set of tutorial blog posts designed to get you up to speed with IronRuby:
Justin seems to have a real knack for putting these tutorials together, and they seem to be popular with C# developers, so if you want to point any C# or .NET stalwarts you know to Ruby, these posts are a great starting point.