A Video Interview With Ruby's Creator, Matz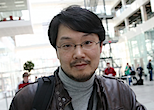 Ruby's creator and benevolent dictator Yukihiro "Matz" Matsumoto has done a video interview for InfoQ at the QCon enterprise software development conference. You can watch the video on InfoQ's page (or, if you're a member of InfoQ, download an MP3).
In the interview, Matz talks about what he'd do if he were recreated Ruby from scratch today, lazy evaluation, Erlang, actor models, typing, his opinions on alternative Ruby implementations, and continuations.
Matz also recommends reading O'Reilly's Beautiful Code (Amazon link) but humbly advises against reading Chapter 29 - a chapter that he contributed to the book.
[jobs] The Ruby Inside jobs board has blown up this month with 14 jobs currently active. They span from New York to Chicago, Akron, Birmingham, and Portland, so check them out if you're looking for something new to do.