Merbunity: Merb's Community Continues To Grow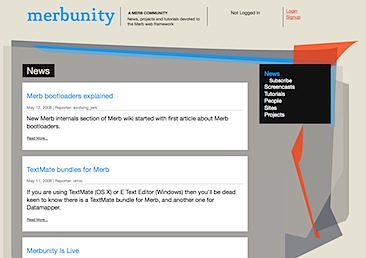 Merbunity is a new site dedicated to "news, projects, and tutorials" related to the Merb Web framework (increasingly a common alternative to Rails). It's very early days, but it's well designed, and the initial content is good. It feels a little like a Ruby Inside for Merb. Great job! Among the launch content, and of almost immediate interest to Mac-based Merb developers, is Dr. Nic Williams' TextMate bundle for Merb.
It should not be hard for Merbunity to get traction with Merb fans. In the past few months the amount of amazing content for Merb developers has grown significantly. Key examples include the Merb wiki, the Merb book, the "How to create a chat wall" tutorial, and even Ruby Inside's own list of 21 Merb links, tutorials, and other resources.
If you've been steering clear of Merb because it's "not mature enough" (a complaint I have heard more than once), start dipping a toe in now. The water's now warm but still not crowded.
This post is sponsored by 16bugs — You know how cumbersome most bug trackers are. We know it, too! If you believe bug tracking should be an easy and unobtrusive task, you should try 16bugs right now. Use coupon code "RUBYINSIDE" and get 50% off when you upgrade your account.