Quick! RubyFringe Registration Just Went Live!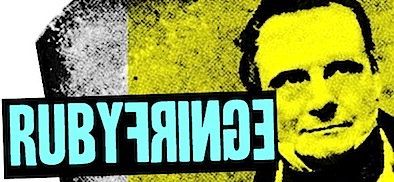 The registration process for the Ruby Fringe conference, in Toronto, Canada from July 18 to July 20, has just gone live. The quoted $650 rate (for the first 75 signups only) is in Canadian dollars, but that works out to $650.58 US, so it's all one and the same. Only 150 attendees (plus speakers) will be there in all, so sign up quick. Out of all the people I've been speaking to in the last week, there's been a big interest in Ruby Fringe, so get in now or be disappointed!
If you missed Ruby Inside's previous mention of Ruby Fringe, it's an "avant garde" Ruby conference focusing on the attendees, rather than high profile keynotes or sponsors' interests. There's a single track, no technical sponsors, and pre-and-post social events are organized. Yes, it's essentially a three day Ruby party. Speakers include Evan Phoenix, Obie Fernandez, Geoffrey Grosenbach, and Ezra Zymuntowicz, amongst others, but no topics will be set in stone prior to the event. As organizer Pete Forde of Unspace says, if anyone comes across something cool on Tuesday, they can present it on the Thursday.
Pete also told me that a brewery has been rented and bands and comedians are lined up, amongst other entertainment. There's also going to be a "girl/boyfriend daycare" type event taking place each day (at a nominal cost) for any significant others we take who aren't into the Ruby scene.
Note: I have no financial interest in this conference, though I am a (unpaid) speaker. I'm just excited about this event!