RubyConf 2010 Registration Just Opened – Be Quick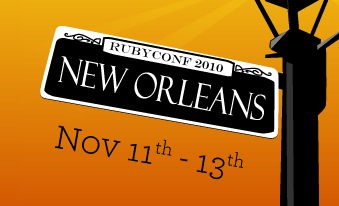 Early bird registration for RubyConf 2010 - to be held in New Orleans November 11-13 - has just opened and you need to get in fast if you want to go. RubyConf has a reputation for selling out very quickly and even though some waiting list folks usually make it in, if you're dead set on going, buy your tickets immediately. They're $300.
Not got a second to waste? Go direct to the ticket ordering page by clicking here.
Note: I don't get a cut of ticket sales or even get asked to post about RubyConf. I just remember reading a torrent of endless misery on Twitter when it sold out so quickly last year ;-)