Rails Installer: Ruby and Rails on Windows in a Single, Easy Install

RailsInstaller is a new project from Wayne E Seguin (of RVM fame) that brings RubyInstaller-style simplicity to getting Ruby and Rails set up on Microsoft Windows (XP, Vista, or 7). In a single wizard-driven installation you get Ruby 1.8.7-p330 (with DevKit), Rails 3.0.3, Git, and SQLite 3.
Rails Installer was developed with help from Luis Lavena (a Ruby on Windows expert) and Dr. Nic Williams (Engine Yard's resident Australian comedian) and its release comes just weeks after Wayne was (re)hired by Engine Yard to work on new open source initiatives.
To get started, go to railsinstaller.org, download the "Rails Welcome Kit" and run the installer. There's a screencast you can watch too. The process is as simple as it sounds and you can have a basic, empty Rails project running within minutes.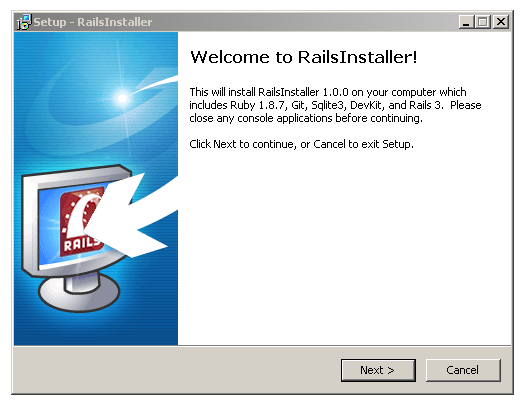 If you want to follow along more, check out the @RailsInstaller Twitter account or the Rails Installer Google Group / mailing list.
Like RVM? Do Wayne a Favor..!
I've been speaking to Wayne and in the long term he will extend the RailsInstaller site with more information on where to go next and links to tutorials, etc, but for now he wants RailsInstaller.org to be the #1 "go to" site for budding Windows-based Rails developers. To help with this, he's keen for people to link to http://railsinstaller.org/ with the text Rails Windows Installer - making it more likely to come up if people Google for "rails windows" and similar.
Wayne is also keen for you to share Rails Installer with any/all Windows-based developers you know who might be interested in trying out Rails. A one-file, wizard driven installation process makes it look a lot better than the previous "download this, type that, download this, open that" process.
If you're interested in the source code behind the project and helping out at that level, there's the railsinstaller-windows project on GitHub you can check out too.
Ruby 1.9.2 Next, Please ;-)
I have only one complaint about RailsInstaller; it's Ruby 1.8.7 only (for now) but 1.9 is where it's at in 2011, especially for Rails 3! Nonetheless, I suspect further and more varied packages will be coming in due course. If you care that much about it in the short term, of course, you can use RubyInstaller 1.9.2 and install Rails by yourself the long way ;-)