RIDE-ME: A new Ruby / Rails IDE for Windows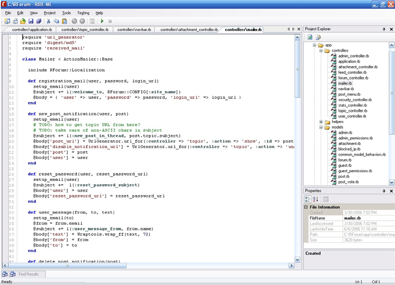 Project RIDE-ME is a new, open source, IDE and development environment for Ruby on Rails (though it'll work with just Ruby too, of course) on Microsoft Windows. Unlike most other Rails IDE attempts, it's not based on Eclipse, and is designed to make life easy for coders migrating across from Visual Studio. It certainly looks nice, although the reports are that it currently lacks a debugger, Subversion support, and a few other things. Looks promising though, and I think this could become rapidly popular with those who aren't keen on Eclipse.
It makes me think that if there were an IDE like this with a lot more features, the author could easily charge $50 for it, and it'd sell like hot cakes. I know a few of my clients had trouble choosing an IDE for Rails, and would have jumped at something like that.