RAM: Open Source "Ruby Asset Manager"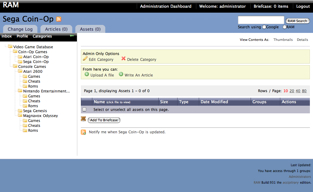 RAM: Ruby Asset Manager is an open source project that provides a 'digital asset manager' written in Ruby on Rails. It has a slick interface and there's a live demo you can play with right away, as well as the obligatory page of screenshots and screencasts demonstrating features such as Web-based multiple file upload, bulk download, group based roles, and password protected RSS feeds.
It looks and feels like a pretty solid Rails application, so it might be worth diving through the source code for any goodies, or even to learn how a big project involving front end, administration, and feed interfaces with role-based authorization is put together.