Insoshi: Open-Source Rails-based Social Networking Platform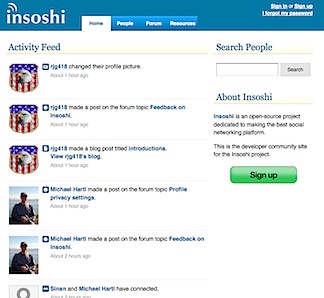 Insoshi is a new, open-source social networking platform developed in Ruby on Rails. It's on GitHub, so you can fork it to your heart's content, and it can act as a base for developing your own social Web application. Features include activity feeds, profiles, photo sharing, comment walls, blogs, forums, user messaging, and an admin panel.
Insoshi was developed by Michael Hartl, author of RailsSpace, an Addison-Wesley published book about developing a social networking site in Rails. Hartl certainly practices what he preaches! It is important to note, however, that Insoshi is licensed under the Affero General Public License, so making the source code available for your derivative sites is necessary.
Lovd By Less is a similar system previously mentioned here on Ruby Inside that's also open source and free to use. From what I can make out, both systems are very similar in terms of features (profiles, messaging, blogs, admin system, etc. but Lovd By Less has the edge by being MIT-licensed, making it easier to use in your own commercial applications.