RM-Install: A new multi-platform, enterprise-level Ruby on Rails stack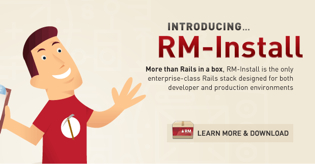 RM-Install is a new, free Ruby on Rails stack developed by FiveRuns, a company that provides enterprise-level management solutions for Ruby on Rails applications. Of course, Rails and Ruby are already available for free, but RM-Install provides you will everything you need in one deployment. The components include Ruby 1.8.6, Rails 1.2.3, MySQL 5.0, SQLite 3.3, Subversion 1.4, Apache 2.2, OpenSSL, ImageMagick, Mongrel (with clustering support), Capistrano, Gruff, Rake and RMagick.
Currently RM-Install is available for OS X (Intel) and Linux only, but versions for OS X (PowerPC) and Windows will follow soon. Perhaps this is the holy grail of getting a Rails development environment up and running (with ImageMagick no less) in minutes?