Salesforce.com Launches Database.com: The First Enterprise-Level Cloud Database?

Many infrastructure companies have recently adopted a drip-feed pricing model - consider renting servers from Amazon EC2 or monitoring our servers with New Relic RPM. The cloud database industry is still in its infant stages but today Salesforce.com has kicked things up a notch in offering all of its enterprise-scale database technology in a new cloud database service, Database.com.
Last week, engineers at Salesforce gave me a briefing and ran through the system. I was impressed. With its public API and networked nature, Database.com is truly Ruby friendly and the ActiveSalesForce adapter for ActiveRecord can get things running quickly if you're an ActiveRecord user. It's especially an ideal fit with platforms like Heroku if you want a powerful database behind your app.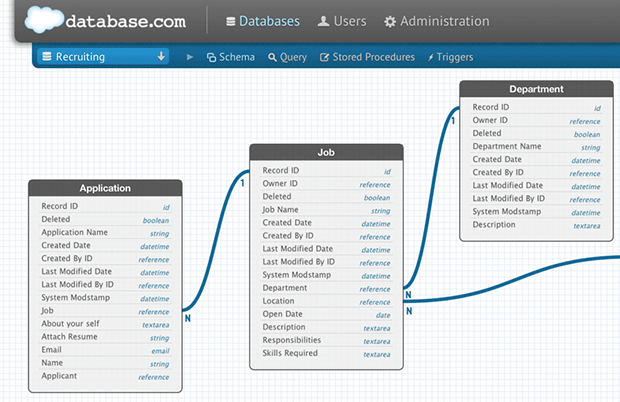 Database.com features a powerful visual online schema designer (though you can stick to doing DB design through migrations, etc, if you like) and boasts automatic scaling and "to the transaction" reliability. It's essentially the same fault tolerant, ACID-compliant, high performance relational database system that powers all of Salesforce.com. Want more buzzwords? Automatic elasticity in scaling, OAuth or SAML authentication, row level security, enterprise-level full text search..
The basic pricing plan is free for up to 3 users with 100,000 records and 50,000 transactions per month, with a charge of $10/month for each set of 100,000 records beyond the free 100k, and another $10/month for each set of 150,000 transactions beyond the free 50k.
Update: Software Advice has done a video interview with Eric Stahl of SalesForce.com on the launch and Database.com in general.