RSpec 2.8: The Popular Ruby BDD Tool Goes Supersonic
RSpec 2.8 has been released, along with rspec-rails 2.8.1 for the full Rails 3.x integration experience.
RSpec is a BDD-focused testing tool that's particularly popular in the Rails world where everyone except DHH is using it (if you believe the hoopla). RSpec has faced accusations of being less than speedy in the past, but it seems 2.8 has had a performance firework shoved up its tailpipe: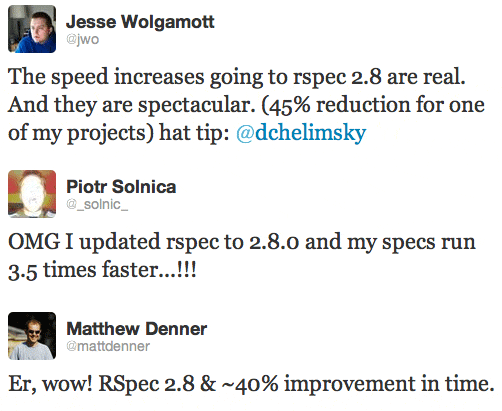 David Chelimsky, the creator of RSpec, also notes that in RSpec 2.8:
the documentation has been significantly improved
there's improved support for tags and filtering
random example running order support (with user definable seed)
rspec --init will create a spec directory and some starter code on a blank project - ideal for Ruby library development!
Overall, 2.8 seems like a good step forward, and if you've been feeling a little constipated in the spec running department lately, RSpec 2.8 might help you get things flowing again (though as with Ruby 1.9 vs 1.8, your mileage may vary depending on your usage.)