"Ruby" Becomes 4th Most Popular Girl's Name in the UK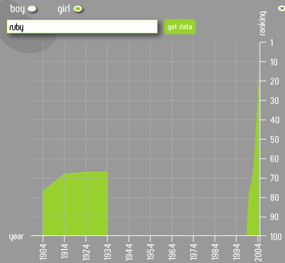 Christmas Day deserves a frivolous story! How about the incredibly rapidly growing popularity of the name "Ruby" in the UK? Reasonably popular until the mid 1930s, the name dropped off the charts until around 2000. Since 2002 the name has leaped from the 70th most popular girl's name up to 4th!
Unfortunately, however, the surge in popularity is not likely to be linked to the Ruby programming language's prowess, but more to the surge in popularity of 'old names' and the character of Ruby Allen in the nation's favorite soap, EastEnders, with the Office for National Statistics even attributing the rise in popularity to the character.
Have any Ruby developers or evangelists named their daughter Ruby in celebration of the language? If you're bored with your turkey already, do drop a comment. Regular programming resumes on December 27.