Ruby 1.9 Drops Support For 9 Platforms (Ruby 1.9.0-3′s Release Bombshell)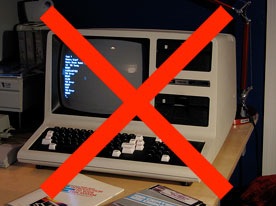 Photo credit: Blakespot. License: CC 2.0 Attribution
Yuki Sonoda has announced the release of Ruby 1.9.0-3, a snapshot release of the still-experimental Ruby 1.9 (wait until Christmas for the production ready 1.9.1). Minor releases aren't typically covered here on Ruby Inside, but the dropping of support for nine platforms in Ruby 1.9 might be of significant interest to some:
Ruby 1.9 no longer supports the following platforms because they have no active maintainer.

BeOS
WinCE
OS/2
Interix
bcc32
Classic MacOS
djgpp
VMS
human68k

I will remove platform-specific codes for them from Ruby, unless someone become a maintainer by 25 Sep.
It seems unlikely anyone will be too bothered about losing Ruby on Mac OS 9, DOS, BeOS or WinCE, but if you are bothered, get on to ruby-talk right away. Even if you don't think you could maintain it yourself, renewed interest in your platform might encourage others to get involved.
Further to the above, Ruby 1.9.0-4 is due on August 25, 1.9.0-5 on September 25, 1.9.1 RC1 on October 25 (this will be quite a significant test - put it in your calendar), 1.9.1 RC2 on November 25, and 1.9.1 proper on December 20, 2008.
This post supported by Rails Kits: Get billing and subscription code "to go" with the SaaS Rails Kit. Quickly add credit card and PayPal payments to your Rails app. Now supports Authorize.net and other payment processors. Get 10% off by using the discount code "rubyinside" at checkout before August 1st.