RubyDoc.info: Good Looking, Up-To-Date Ruby Documentation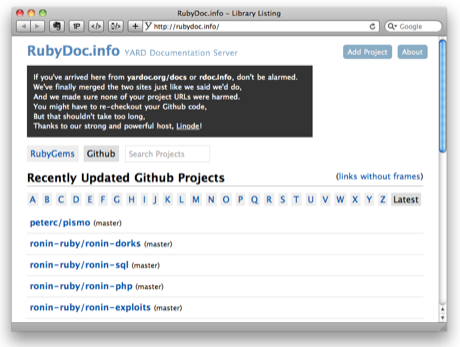 RubyDoc.info is a new, automatically updated Ruby documentation site by Loren Segal and Nick Plante that builds upon their earlier success with rdoc.info (which we posted about in 2009). It's powered by YARD, a tool that puts out great looking Ruby documentation (there'll be more about YARD in a post later this week).
RubyDoc.info automatically generates documentation for all gems on rubygems.org (it updates its index once per day) but it does GitHub-hosted projects too. For RubyDoc.info to automatically update with documentation for your Ruby-related GitHub project, use the "Add Project" link on RubyDoc.info and then add http://rubydoc.info/checkout as one of your post-commit hook URLs in your repository's settings - on each future commit, your latest documentation will be built on RubyDoc.info.