Rubyists On The Front Row of Election History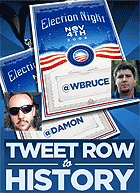 Happy Election Night!
A few days ago, the Obama campaign ran another call for donations and offered the chance for ten donors to sit on the "Front Row to History" - basically the front row of an Obama event in Grant Park, Chicago. Rubyists Bruce Williams (of FiveRuns) and Damon Clinkscales (Austin on Rails) have made it into this group, and they've rapidly launched The Tweet Row to History (obamaftw.org) - a Twitter fuelled site with their up-to-the-minute adventures in Chicago.
Naturally, Bruce and Damon are flying the Obama banner pretty strongly, but this is a bipartisan site, so may whoever you voted for win!