Thanks To Ruby Inside's Sponsors for March 2008
February and March have proven to be bumper months for people becoming interested in sponsoring Ruby Inside. It's thanks to these people and companies that Ruby Inside is continuing to grow, as their support ensures that I can spend more time on the site. I'm hoping that I can use the resources these companies provide to take Ruby Inside to even better places by the end of 2008 and focus on more mini interviews, picking up the latest gossip at Ruby conferences, and developing better ways to share the latest Ruby and Rails news.
I am insistent that Ruby Inside's sponsors (and all advertising in general) provide services or products that are actually interesting to Ruby or Rails developers. That is, as a Ruby developer, I want you to like reading about the site's sponsors since they might be offering something you actually need. Because of this, I will shortly be removing the irrelevant ads FeedBurner adds into the Ruby Inside feed.. it's no revolution, but I want you to see things you might actually want to use!
Note: All blurbs and descriptions are written by me and not directly influenced or specified by the sponsors. As such, any opinions stated are mine and not necessarily shared by the sponsor(s)!
PeepCode - Rails Screencasts and E-Books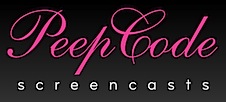 Who in the Ruby world doesn't know Geoffrey Grosenbach and his PeepCode screencasts? PeepCode has been the longest sponsor of Ruby Inside. If you haven't checked out PeepCode lately, give it a look. More screencasts are available and they've branched out into e-books. New releases from PeepCode include Plugin Patterns for Rail 2, Rails 2 PDF in French, and a draft of Meet Merb.
FiveRuns - Rails Application Monitoring Solutions

FiveRuns is one of Ruby Inside's new sponsors for March! They provide Rails application monitoring and support services and infrastructure. FiveRuns truly likes to be part of the community, whether by releasing a free Ruby and Rails stack or publishing a great set of interviews with Ruby developers on their blog. Recently FiveRuns has had a run of good luck, by both hiring Todd Barr, a senior Red Hat director, and by becoming a finalist in the CSS category of the South by Southwest's Interactive Web Awards.
Morph eXchange - A Rails Application Hosting and Deployment Platform

Morph provides an interesting enterprise level platform for deploying Rails applications. No servers are needed and you don't need to set anything up; the Morph platform does it all. Morph provides a fully managed service and handles load balancing, scaling and high availability issues, as well as the complete Web application stack. 24/7 monitoring services and managed backups are also provided. The CEO of Morph Labs compared a Morph "AppSpace" to a "service office for your application." This YouTube video demonstrates how you can deploy a Rails application within 4 minutes on the Morph platform.
Atlantic Dominion Solutions - Rails Consultancy and Development

Based in Orlando, Florida, Atlantic Dominion Solutions offer a full range of Rails consultancy and development services and were the brains behind the recent acts_as_conference Ruby and Rails conference. ADS founder Robert Dempsey is also behind the Rails For All project, a Rails advocacy group.
Job Alert! Atlantic Dominion Solutions has an opening for a Web applications developer (using, of course, Ruby and Rails) to work in Winter Park, Florida (with Stillwater, Oklahoma as an alternative option.)
Building Web Apps - Rails Seminar and Podcast

BuildingWebApps are offering a two day hands-on Rails "QuickStart" seminar in San Francisco on April 29-30, 2008. The instructors are Michael Slater and Christopher Haupt, both of who have a frankly intimidatingly amount of experience in presenting seminars and instructional sessions. They also have a compelling (and free!) podcast called Learning Rails that's worth subscribing to.
BrightBox - UK Ruby on Rails Hosting

BrightBox are a new Leeds, UK based (support the north!) hosting company specializing in high-end Ruby on Rails application deployment. There's a pent-up demand for UK-based Rails hosting, and BrightBox offer a wide range of plans, from a basic VPS with 256MB of memory up to a 2GB-packed behemoth. The bandwidth allowances are pretty good by UK standards too, and all but the cheapest plan come with FiveRuns' RM-Manage technology.