Thanks To Ruby Inside's Sponsors for February, 2008
As Ruby Inside has picked up traction, sponsors have become interested in engaging with the blog's audience. Primarily this is for branding purposes and general exposure, but I also feel it's important to thank the sponsors for the support they're giving to Ruby Inside. They provide yet another reason to maintain high standards and to keep delivering the best news and links to the Ruby community. As well as the audience, it's also thanks to them that Ruby Inside is what it is.
Note: The blurbs below are written by me and are my own opinions, not necessarily those of the sponsors.
BrightBox - Serious UK Ruby on Rails Hosting

BrightBox are a new UK-based (Leeds specificially, go THE NORTH!) hosting company specializing in high-end Ruby on Rails application deployment. There's a pent-up demand for UK-based (that is, using UK datacenters and IP addresses) Rails hosting, and BrightBox offer a wide range of plans, from a basic VPS with 256MB of memory up to a 2GB behemoth. The bandwidth allowances are pretty good by UK standards too, and all but the cheapest plan come with FiveRuns' RM-Manage technology.
Building Web Apps - Rails Seminar and Podcast

BuildingWebApps are offering a two day hands-on Rails "QuickStart" seminar in San Francisco on February 20-21, 2008. The instructors are Michael Slater and Christopher Haupt, both of who have a frankly intimidatingly amount of experience in presenting seminars and instructional sessions. They also have a compelling (and free!) podcast called Learning Rails that's well worth subscribing to.
PeepCode - Rails Screencasts and E-Books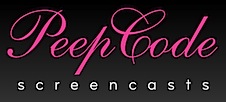 Who in the Ruby world doesn't know Geoffrey Grosenbach and his PeepCode screencasts? PeepCode has been the longest sponsor of Ruby Inside (indeed, the only sponsor until December 2007). If you haven't checked out PeepCode lately, give it a look. More screencasts are available and they've branched out into e-books.
Atlantic Dominion Solutions - Rails Consultancy and Development

Based in Orlando, Florida, Atlantic Dominion Solutions offer a full range of Rails consultancy and development services and were the brains behind the recent acts_as_conference Ruby and Rails conference. ADS founder Robert Dempsey is also behind the Rails For All project, a Rails advocacy group.