World's Largest Index of Rails Developers, WorkingWithRails, Launches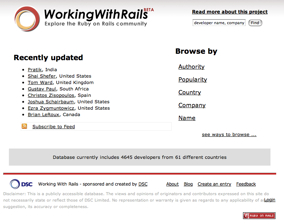 DSC, a London based technology consultancy, has today launched Working With Rails, the biggest index of Ruby on Rails developers seen on the Web so far. Quietly launched to a small group of developers several days ago, the site has now gone live for everyone to play with.
I caught up with DSC developer Martin Sadler to learn a little more about the site.
Ruby Inside: What was the motiviation behind developing WorkingWithRails for DSC?
Martin Sadler: At DSC we tend to use Ruby (on Rails) for the majority of our projects and so it seemed fitting that we contribute back in some way for all the benefits ROR has given us.

For me the Wiki is great but has it's limitations when you want to do more complex queries or cross reference against other data sets. The Working With Rails page was one such example. I saw potential and so WWR was born.
RI: What tools and techniques did you use to get the initial data of the 1000+ Rails developers?
MS: I evaluated a number of Ruby tools for getting the data but Hpricot came out tops. I'd love to say we are doing some further fancy stuff under the hood but other than Hpricot it's just standard Rails and a few plugins. (and lots of Mongrels!)
RI: How has the response been from the beta testers so far?
MS: Very enthusiastic and encouraging so far with lots of good suggestions and ideas! Most have commented on the clean and easy to use layout and the ease of finding / browsing people. Also noted has been the neat little features such as being able to find more information about a developer from their profile page through a Google code search, Technorati, etc.

Initial feedback suggests that people will be using it for a number of different reasons, some just curious about other developers in their area / field of influence, others are freelancers hoping to get noticed, and of course companies looking for developers.

There are lots of possibilities as to where this site will go, we've got a few more ideas of our own but we are looking to the wider community for feedback and suggestions first.