Benchmarking with httperf: Another great screencast from Geoffrey Grosenbach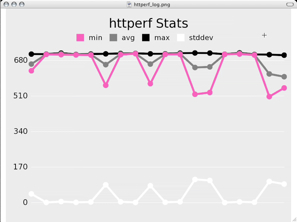 Benchmarking with httperf is a new screencast by Geoffrey Grosenbach in his Peepcode series of Ruby / Rails related videos. It costs $9, but for that you get a bundle of source code and a very high quality video of 53 minutes' length.
In the video Geoffrey covers a lot of basic theory about statistics (including standard deviation) and shows how to extract useful statistics from Rails log files and httperf, a Web server performance monitoring tool. He demonstrates the actual effects of using the various types of caching available to Rails developers (including what types of caching are faster and by how much) and what effect sessions have on request levels.
It's pretty meaty stuff, but essential to learn if you're involved in deploying Rails applications, and a steal to get an hour of high quality guidance for $9.