ED for Windows: Another established IDE adds Ruby support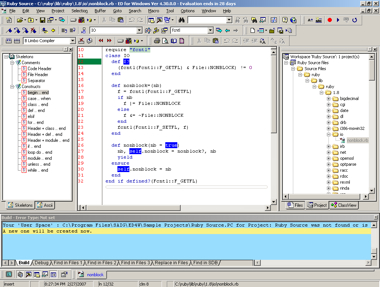 I'm not a big IDE or a Windows user myself, so getting me to review a Windows-based IDE could be quite tough. However, the creator of ED, Neville Franks, is an Australian-based independent software developer (trading as Soft As It Gets) and wrote such a nice e-mail that I felt obliged to take a look.
ED is a Windows-only editor with over 20 years' of history, having first been commercial released in the 80s, crammed with features a lot of developers seem to love, and with support for about twenty different programming languages out of the box. The latest is Ruby which Neville has so far been impressed with. ED performs code completion (ending of blocks, if statements, etc), syntax highlighting, class navigation, and all of the features you'd usually expect an IDE to boast. Neville has written a comprehensive blog entry covering ED's support for Ruby, where he demonstrates each of these features.
ED is a commercial product but there's a fully-featured 30-day trial version available to download. If you're still looking for a Ruby IDE on Windows that suits your tastes, give it a try.