Is Windows a First Class Platform for Ruby?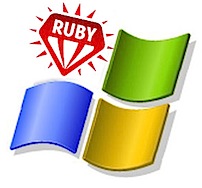 Luis Lavena is the new maintainer of the popular Ruby "One-Click Installer" for Microsoft Windows. As part of this new role, Luis has set a milestone of cutting the dependency on pre-built packages. He wants to move development from Visual C++ 6 to MinGW, so that Windows-based Ruby developers will, at least, be able to take advantage of a Linux-esque build system for Ruby libraries in future. Back in January, Luis wrote Ruby for Windows, a post where he elaborated on these ideas and wrote candidly about the state of Ruby on Windows (inability to compile some gems without VC6, etc.)
Unfortunately, he didn't get much of a reaction, and was led to write Is Windows a support platform for Ruby? I guess not, a somewhat frustrated post where Luis asks whether he should continue with the OCI / VC6->MinGW work or not. He wants to know whether anyone is actually interested in Windows being a first class Ruby platform or not, or whether there are other alternatives.
As a non-Windows user, I don't have any opinions, but as a Ruby user, I share Luis's concerns that a poor Windows Ruby ecosystem could harm the growth and spread of the language. So, we'd really love to know if Windows is a platform that Ruby developers truly want to support, or whether there are other approaches that should be taken.
Is Windows a first class platform for Ruby, or not?