Haml 1.5 Released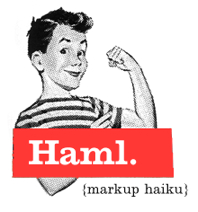 Back in September 2006, I posted about a new markup language for Rails templates called Haml. For those who missed it, Haml is a high-level, semantic language that makes it rather hard to make HTML markup errors. It relies heavily on indentation, a la Python, for its structure.
Hampton Catlin has now released a significant new version, Haml 1.5. Along with this comes a great new logo (above) and official Web site. A very easy to follow tutorial is also offered to whet your appetite.
Hampton says that a significant improvement in 1.5 is a feature called "Sass", a new way to define CSS stylesheets in a logical way, along with constants, operations, nesting, and selectors. Full release notes are available.