Merb + Shoes = Interesting Web / GUI App Crossovers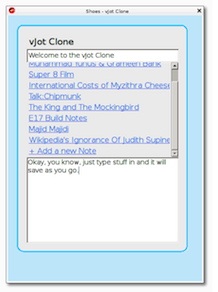 Shoes Meets Merb: Driving a GUI App through Web Services in Ruby by Gregory Brown and Brad Ediger leads us on a six page tutorial extravaganza through not only building a cross-platform GUI app (namely, a pastebin of sorts) using WhyTheLuckyStiff's Shoes system, but using Rails-killer Merb as a backend for storing the data. It's an impressive enough effort that Why himself has linked to it and added a few notes of his own (including the provision of a much better illustrative screenshot - as used above).
In related news, yesterday Why announced the launch of a new version of Shoes, known as "Curious."