Shoes – Ruby's Cross Platform GUI App Toolkit – Grows Up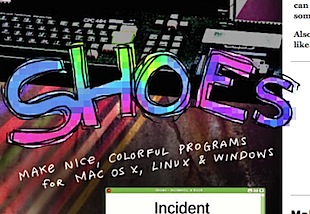 It was about a year ago now that Rubyist extraordinaire Why The Lucky Stiff first showed his "Shoes" Ruby cross-platform GUI application toolkit off to the world. Since then, he's not let up with the development.
Previously, we've featured the release of The Shoebox - a Shoes application repository - and Nobody Knows Shoes - a short book about Shoes, done a roundup of Shoes tutorials, and looked at how to write a drawing program with Shoes on OS X.
Now, Shoes has a new official homepage - located at http://shoooes.net/ (yes, that's three os). Complete with a picture of an Amstrad CPC and gloriously pixellated logo, there's now a reasonably non-technical place to go to download Shoes, get into the wiki, and get access to the book. There's also a really good illustrative tutorial that walks you through some basic Shoes examples.
Quit dallying - go check it out. It's quite possibly Why's best work yet.