Ramaze: Another Light Ruby Web Framework, But With MVC!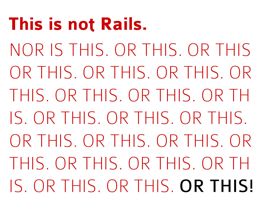 Ramaze is a simple, light weight (in a good way!), modular Web framework developed in Ruby. Like Rails, and unlike some of its newer competitors, such as Sinatra, Ramaze sticks to the MVC (Model, View, Controller) paradigm, making it more like a lighter, more modular Merb-alike. Ramaze is already a year old, and one thing that the official Ramaze Web site does right is provide lots of example code and documentation. The framework has also seen four releases in the last six months, a sure sign that someone cares about it.
Inspired by Ruby Inside's recent post, "Reprise: A Ruby-Powered Blogging App in 100 Lines Including Templates," Aman Gupta, one of the developers of Ramaze, has converted the code from a Sinatra-based non-MVC format over to the Ramaze equivalent, so you can get a direct comparison of the two different approaches by reading two sets of code for the same application.