Wuby, another light-weight Web framework for Ruby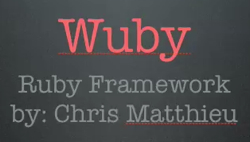 Wuby, developed by Chris Matthieu, is a new light-weight Ruby Web application framework, much in a similar vein to Sinatra or Camping.
One of the differences of Wuby is that no third party applications or gems are required to run Wuby apps, and the Wuby library itself contains everything necessary to run an HTTP daemon and start serving requests. The wuby.org site itself is running on the Wuby system and certainly seems to serve up pages extremely quickly. No database connections are required (although MySQL and SQLite are easily usable), and data can be stored in a persistent hash for ultra simplicity.
I find the example code on wuby.org a little arcane (I'd say it has a bit of a PHP feel about it), but there's some documentation and the framework is easy to download (just one file). Chris has also put together a great 30 minute screencast where he walks through how Wuby works and how to put together an application with it.